Manchester United star forward Cristiano Ronaldo isn't having his best of the season as he hoped. He was an unused substitute in the game against Tottenham Hotspur. Ronaldo was seen leaving the pitch into the tunnel in the 89th minute and Man United fans aren't happy about it.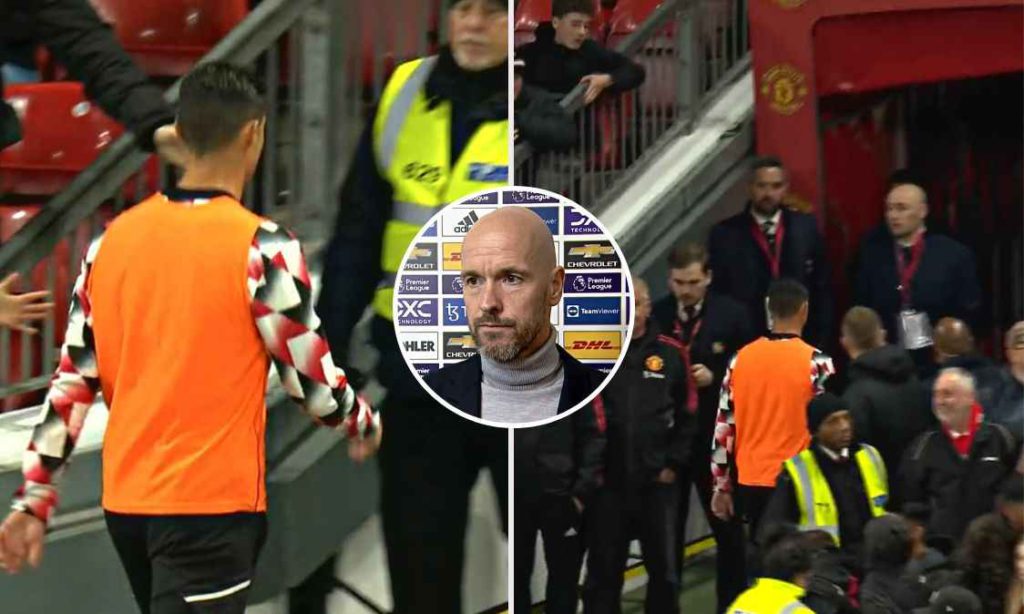 The United star was not utilized as a substitute as Erik ten Hag's team destroyed Spurs and won 2-0 at Old Trafford. It was arguably the best performance by United under the new manager as Fred and Fernandes scored.
But it didn't sit the fact right to Ronaldo who was not featured in the game. He exited the dugout in the 89th minute before the final whistle blew in spectacular fashion.
Video of Ronaldo leaving Old Trafford against Spurs
Fans not social media have already retaliated against Ronaldo and said that his behavior has "tarnished" the club's reputation.
After Ronaldo's early exit, one fan wrote: 'Ronaldo is a disgrace 37 years of age and storming off like a petulant child.'
Sports reporter Alex Turk was embarrassed/surprised and wrote "Cristiano Ronaldo is embarrassing and don't even bother coming at me. The greatest performance of Erik ten Hag's reign so far and he tries to make it about himself because United played levels better without trying to accommodate him. Again. Just becoming sad at this point…"
Another Twitter user named TCR said: "Ten Hag really told Cristiano Ronaldo to warm up but he went off. If this is not disrespect, I don't even know what it is anymore."
An unhappy fan said: "Ronaldo is a fu**** baby btw, by big win for your team and you're tryna be the main character, says a lot about who he is as a person."
The Portuguese forward, who attempted to leave the club in the summer, has recently gained attention for his complaints about not getting enough playing time at the club.
Ronaldo had done it before?
It is not the first time Ronaldo walking out of the game when he's not involved. He along with other players walked out of the stadium in the mid-game in pre-season preparations against Rayo Vallecano. The game ended with a 1-1 draw and the manager was not happy with the situation.
Erik ten Hag responded
Manager Erik ten Hag when asked about the incident responded on Amazon Prime Video by saying "I don't pay attention to that. I have seen him, I will deal with that tomorrow, not today. We are celebrating this victory and we have to recover from this for Saturday."
Manager Ten Hag has been a strong and bold figure at Man United who isn't afraid to change as he continues to bench two major figures Captain Maguire and superstar Ronaldo.
Read more latest and exciting news at Football Devils.