Marc Overmars "inappropriate message to female Co-Worker" led to his downfall from his role as a director at Dutch club Ajax. The club confronted him for his disciplinary action to a co-worker, for which he decided to leave his position.
Ajax's director Marc Overmars has stepped down from his role after the authorities found him sending 'inappropriate messages' to the female employees. Marc has also apologized for his past action to his female co-workers but Ajax has made it clear that there is no turning back.
On February 6, 2022, Ajax announced his departure from the club with an immediate effect through their official website. Marc has been associated with Ajax for nearly 10 years.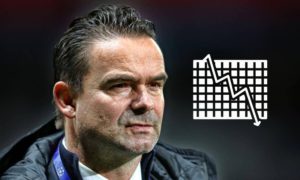 Marc Overmars at Ajax
Marc Overmars was appointed as the director of Ajax in July of 2012. Recently he extended the contract with the team until 2026.
He was also with the club in his playing days back in 1992. He played for 5 seasons at the club and scored 36 goals in 136 appearances. He also won the 3 league titles. and a Champions League.
He transferred to Arsenal in 1997 before moving to the Spanish side of Barcelona in 2000.
Why did Marc Overmars leave Ajax?
As per the sources, the former Barcelona player Marc Overmars himself decided to leave the club after it was revealed that he send multiple explicit messages over periods to his co-workers. Following the exposure, he had a meeting with Ajax's CEO Edwin Van Der Sar and the supervisory board.
He said that he is ashamed for crossing the line. He said,
"I am ashamed. Last week I was confronted with reports about my behavior. And how this has come across to others. Unfortunately, I didn't realize that I was crossing the line with this, but that was made clear to me in recent days." He added, "I suddenly felt enormous pressure. I apologize. Certainly for someone in my position, this behavior is unacceptable. "
And he also said that there was no other option than to leave his position and the club. He said, "Certainly for someone in my position, this behavior is unacceptable. I now see that too. But it is too late. I see no other option but to leave Ajax."
According to him, the issue has also affected his private life. And he has asked everyone to leave him and his family. He said,
"This also has a major impact on my private situation. That is why I ask everyone to leave me and my family alone."
Ajax's response to Overmars action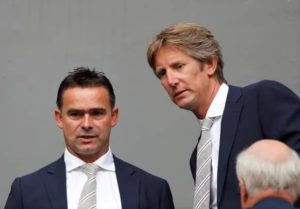 After Ajax authorities found out about the situation, they immediately had a meeting with their former director Overmars. And both parties decided that it was best for the club if Marc leaves his position. They have also issued a statement regarding the issue.
CEO Van Der Saar said,
"In my role, I also feel responsible to help colleagues. A safe sport- and working climate is very important. We will pay even more attention to this in the near future." He said, "Marc and I have been playing together since the early 1990s, first at Ajax and then with the national team."
He made it clear that such behavior was a big blow to everyone in the club and totally not acceptable.
Leen Meijaard, Supervisory Board Chairman said,
"Marc is probably the best football director that Ajax has had. We upgraded and extended his contract for a reason. But, unfortunately, he has really gone over the line, so continuing as director was not an option, as he recognized himself."
He added,
"This is a dramatic situation for everyone who is involved in any way. It is devastating for the women who have had to deal with the behavior. When we heard news of this, we immediately acted, carefully deliberating and weighing what was the best thing to do"
Explore more exciting news at Football Devils.