Manchester City's £100 million Grealish scored his first goal as City thrashed Norwich by 5-0.
Pep Guardiola made five changes in their squad that lost to Tottenham by 1-0 in the last match.
Kevin De Bruyne and Phil Phoden are out of the squad due to injuries. And Norwich started with the same squad that lost to Liverpool by 3-0.
First Half Summary
City started the game by pressing and it paid off. The first goal came against Norwich 7th minute. Jesus made a supercross from the right which unfortunately is deflected by Krul and its own goal for Norwich.
In the 15th minute, Torres scored another goal for City which was later denied by the referee after reviewing in VAR.
The £100 million Jack Grealish got his first-ever goal for City in his home debut in the 22nd minute. Jesus was the man who crossed the ball from the right which touched Grealish's ankle and the ball touched the net. More coming for Grealish.
Another 3 goals for City in the second half
Norwich made two changes in the first minute of the second half. McLean and Mumba are in for Rupp and Giannoulis.
Man City found their third goal of the game by defender Laporte after Norwich's defender Rashica's mistake. Rahshica failed to make a clearance and Laporte made no mistake in hitting the ball back to the net.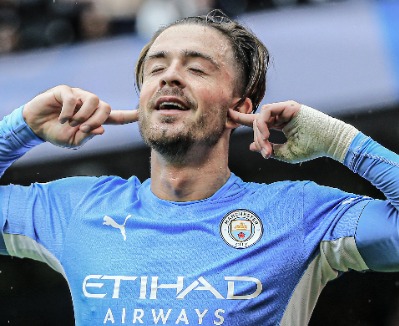 Guardiola's sides substitute Sterling who came in the 61st minute made it 4-0 after 10 minutes in his game.
Again, Jesus was the man that made a cross from the right flank and Sterling made a simple tap in an empty net.
In the 75th minute, the second goal scorer for Mancity made his way to the bench and Mahrez is the man to replace Grealish. And BAM!! Mahrez scored the fifth and last goal of the game against Norwich. Dias made a beautiful pass to Mahrez and Mahrez curled the ball beautifully to the far post.
First victory for Man City in PL
The Sky Blues ran a riot against Norwich in Etihad and Norwich is again defeated consecutively for the second time in the Premier League.
While Grealish made his first goal for City and Jesus was on top of the game. He single-handedly killed Norwich's left flank.
Read more news on FootballDevils.