Football is a game of Emotions that gives so many unforgettable moments to cherish forever. But there have been some unexpected situations for the footballers that have shocked all the Football fans. Some of them returned to play football; some Players couldn't play, while Some even left the World.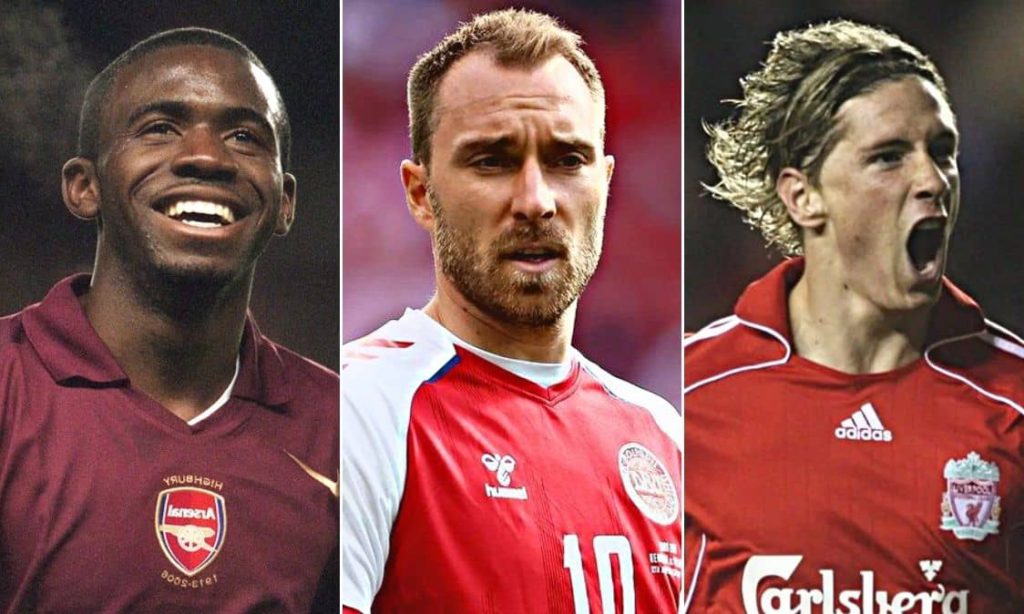 Top 5 football players who Passed out on the Ground
Below is a list of top footballers who collapsed on the pitch, from Tottenham's Christian Eriksen to Ajax's Nouri. No matter who, those tragic moments were Shocking, and the loss was felt worldwide.
5. Fabrice Muamba (Bolton Wanderers, 2012)
Incident Date: March 17, 2012
Against: Tottenham in FA Cup quarter-final
Reason: Cardiac Arrest
Age at that time: 23
What would happen if your heart stopped beating for 2 minutes? Dead, Of course, NA!!! But we have the most MYSTERIOUS case of Fabrice Muamba, whose heart stopped beating for 78 minutes but still lived.
What happened to Muamba?
It was the quarter-final of the FA Cup between Bolton Wanderers and Tottenham at the White Hart Lane Stadium. Everything was going well until Bolton's midfielder Muamba fell down in the middle of the ground in the 43rd minute. The player immediately got medical attention, and treatment was done on the pitch for about 7 minutes, and he was taken to the hospital. Later, the doctor confirmed that his heart stopped beating for 78 minutes.
On March 19, 7 days after the incident, his heart started beating without medication. Five months later, on August 15, the player decided to retire from Football as per the suggestion of doctors. Later, on November 8, 2012, Fabrice Muamba returned to White Hart Lane for the first time, where fans gave him a standing ovation.
What does he do now?
After he retired from football, he tried various professions, including Media Work, Journalism, and coaching too. In 2013, he also covered the 2013 Africa Cup of Nations. And in 2015, he completed his BA in sports journalism from Staffordshire University. Recently, on May 14, 2022, he returned to his former club Bolton Wanderers as an Academy coach.
4. Cristiano Junior (Dempo Junior, 2012)
Incident Date: December 5, 2005
Against: Mohun Bagan's Goalkeeper Subrata Pal
Reason: Heart Stroke
Age at that time: 25
Cristiano Junior's collision and untimely death have been one of the greatest heartbreaking events that happened in football. The 25-year-old footballer's death was mixed with mystery, controversy, and negligence and several facilities were punished.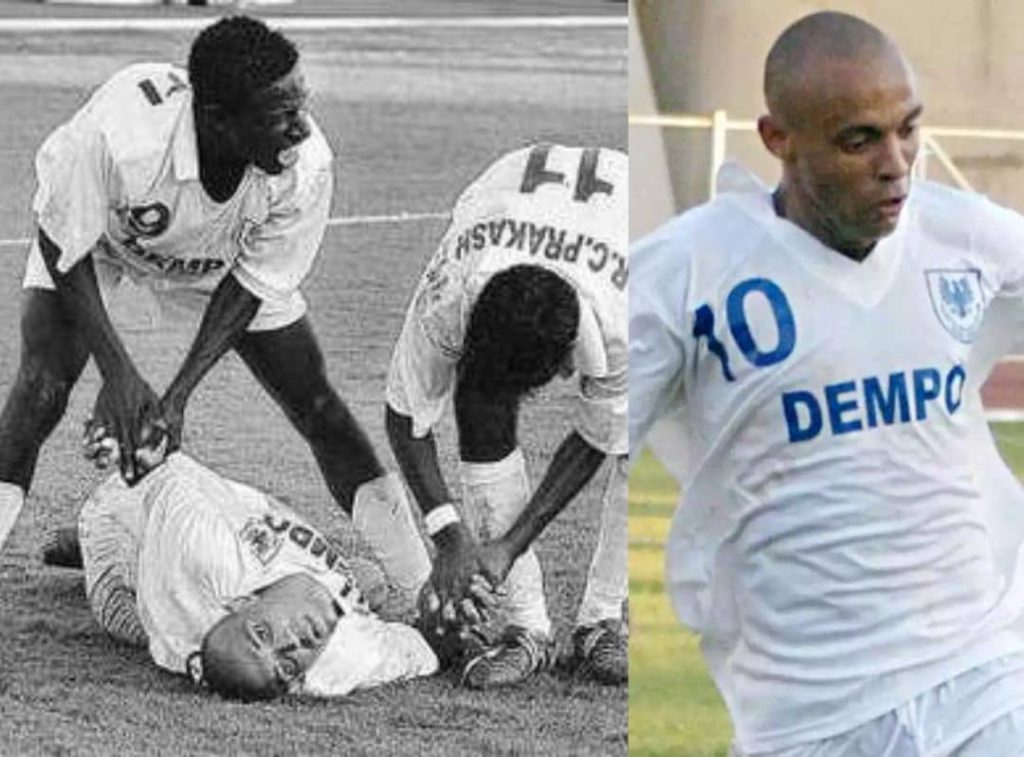 What happened to Cristiano?
After having just won the 2003-04 season title along with India's famous Baichung Bhutia, he joined Dempo making him the highest-paid footballer in India. He was at his peak, but an unexpected situation took all his awaiting glory and his life.
Cristiano was playing against Mohun Bagan in the Federations Cup and had already scored a goal. In the 78th minute, the player scored a classic goal but collided with the opponent's goalkeeper Subrata Pal. Immediately, he fell down on the pitch and despite some medical attention, he was taken to the hospital.
What does he do now?
Junior was announced dead on his arrival at the Hosmat hospital. Later, Bangalore hospital confirmed that he died of a heart stroke and was not injured on his arrival at Hosmat hospital. Dempo filed cases against the goalkeeper Pal, Karnataka SFA, and Hosmat Hospital where he was taken at first. And Dempo also retired Shirt Number 10 in the honor of Cristiano Jr.
3. Bafetimbi Gomis (Al-Hilal(2020), Galatasaray(2018) and Swansea (2015))
Incident Date: 2020, 2018 and 2015
Against: Multiple teams
Reason: Reflex Syncope
Age at that time: Various ages
A very rare case series of going unconscious of the French player Bafetimbi Gomis. Unlike other athletes, Bafetimbi has fainted multiple times on the pitch. He was diagnosed with Reflex Syncope in 2009 which causes him to faint under certain conditions.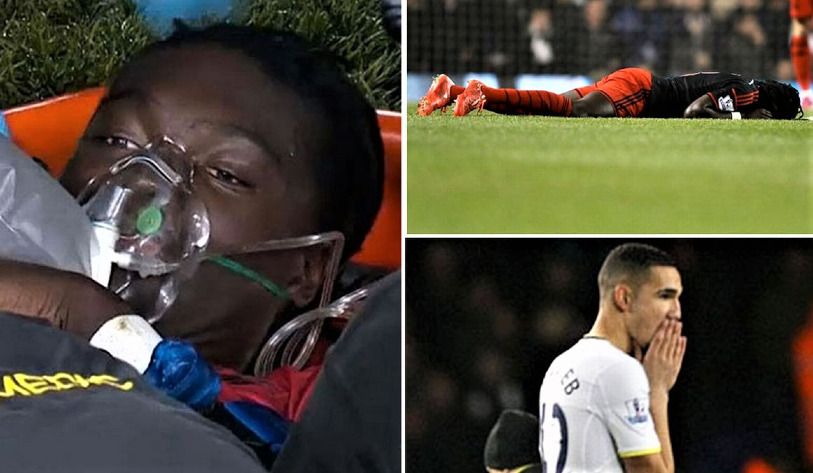 What happened to Gomis?
Gomis went unconscious in the 12th minute, Recovered and Played in the 90th minute. This is a crazy event that happened with Gomis while he was playing for the Saudi Arabian club Al-Hilal. The player fainted in the middle of the match and needed urgent medical attention. As per sources, the reason for his fainting was Vasovagal syncope(reduction of blood flow to the brain). Fortunately, he was awake and started walking within 2 minutes of the incident.
This is not the first time, the French striker has fallen on the pitch. On February 18, 2018, while he was playing for Galatasaray, the player lost consciousness in the 7th minute of the game. That time too, he played the whole match. Similarly, the case happened while he was playing for Swansea too. Regarding the case of Bafetimbi, his former Swansea boss said,
"He has lived with it his whole life, it happens occasionally and when it does so in a public place that scrutiny comes with it."
What does he do now?
Surprisingly, the player is still playing professional football as of May of 2022. Presently, he is playing for his former team Galatasaray and already scored 9 goals in 14 appearances in the 2021-22 season.
2. Fernando Torres (Atletico Madrid, 2017)
Incident Date: March 2, 2017
Against: Deportivo La Coruna's player Alex Bergantinos
Reason: Head Trauma
Age at that time: 33
Probably one of the less talked about recent incidents was when the Spanish star Torres fall down on the ground and went unconscious. And how players and medics reacted quickly, is praiseworthy!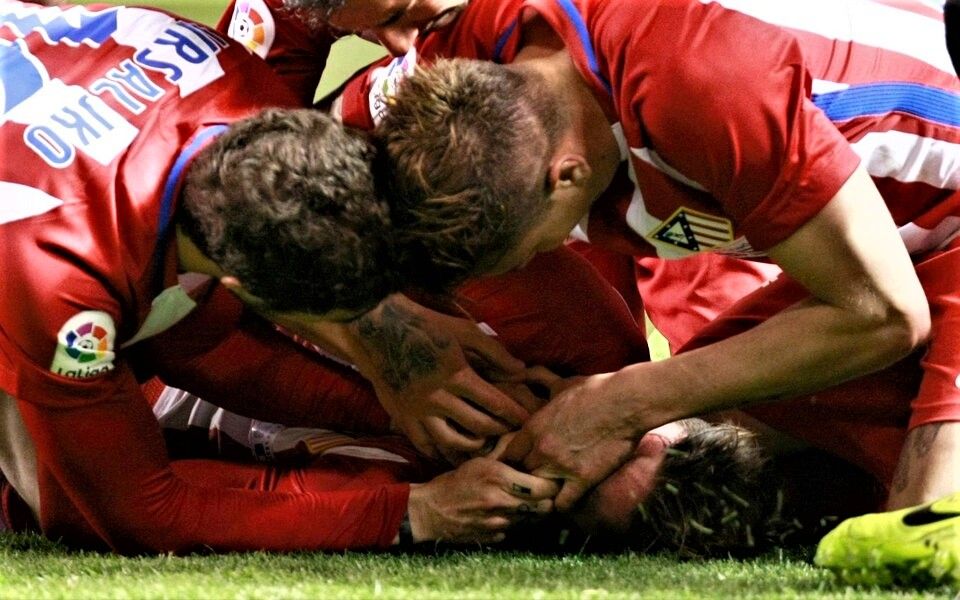 What happened to Torres?
The match was between Diego Simeone's Atletico Madrid and Deportivo Alaves in Laliga. The score was 1-1 between the team and Suddenly, the horrific incident happened in the 84th minute. Torres and Bergantinos went for the aerial clash. The striker headed it first, but Bergantinos had a push on Torres' back. Torres struck his head on the ground and went unconscious instantly. The scene in the stadium was scary as all the players were tensed, teammates were consoling Alex B and Diego Simeone was furious in the stands. Later, he was taken to the nearby hospital after several minutes of assistance.
A few hours after the incident, Torres's agent Antonio Sanz revealed that he was "stable and conscious". The next day, Atletico Madrid announced that their striker was discharged from the hospital through their social media.
What does he do now?
Torres' head injury was not considered that much serious as he started playing a few months later. On 4th July of the same year, he renewed his contract with the club and even played on 16 May 2018 against Marseille in the Europa League Final. Torres resigned from playing professional football. Presently, he is working as a head coach of Atletico Madrid's Under 19 team.
1. Christian Eriksen (Denmark, 2021)
Incident Date: June 12, 2021
Against: Against Finland in the Group match of UEFA Euro 2020
Reason: Cardiac Arrest
Age at that time: 29
A recent case when a footballer comes back from near death is Eriksen's. Fans have not gotten over what happened that day. The Day when every football fan stood for Denmark.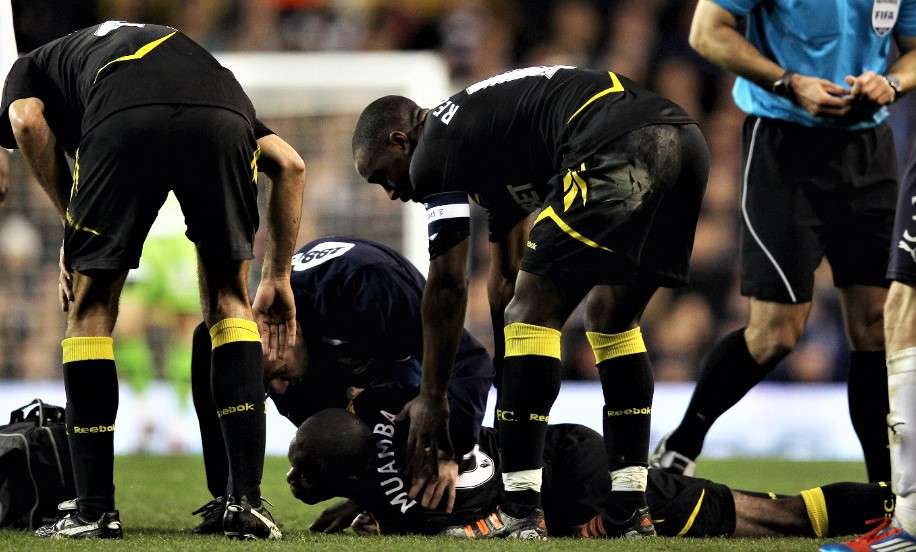 What happened to Eriksen?
The match was between Denmark and Finland in the Parken Stadium of the ongoing UEFA Euro 2020. Everything was going fine for both the teams as they were 0-0 until the 42nd minute of the match. Suddenly, Christian fall on the pitch as he received the throwing from his teammate. Immediate medical attention was given to him as his teammates stood around him and fans all over the world were shocked. The midfielder was taken to the hospital and officials suspended the match.
Fortunately, UEFA announced that Christian was awake and the game continued on. Later, the Danish team doctor Morten Boesen confirmed that the former Tottenham midfielder had suffered a cardiac arrest. 3 days later, on 15th June, Eriksen posted his photo on social media as he gave a message about his health. He was discharged from the hospital on 18 June.
Regarding the incident, the Danish footballer later described what happened and how he felt. He said,
"I remember the ball hitting me. I feel like I'm delivering with the shin. It feels a little cramped in the calf. And then I am gone"
What does he do now?
Despite suffering from a life-threatening situation, Eriksen has already made his comeback to professional football, which rarely happens. His contract with his then club Inter Milan was terminated and he signed for Brentford in January of 2022. Eriksen's first appearance was on February 26, 2022, against Newcastle United as a substitute. His first goal was against Chelsea in a 4-1 victory.
After spending six months in Brentford, Eriksen made a sensational move to English giant club Manchester United on 15 July 2022 and has been performing at the top level ever since.
Read more exciting news at Football Devils.