Real Madrid is one of the most successful and most famous football clubs in the whole world. A very demanding club that has been ruling Europe for a long time has won a total of 33 Spanish League titles and 13 Champions League titles (the most by any club in the league). The home to some of the best players in the world has a great fan following too. But football is not as easy as it seems. It takes a lot of hard work, dedication, tactics, and a proper plan to stay at the top. It is not always the same. There are always ups and downs. Every club faces it.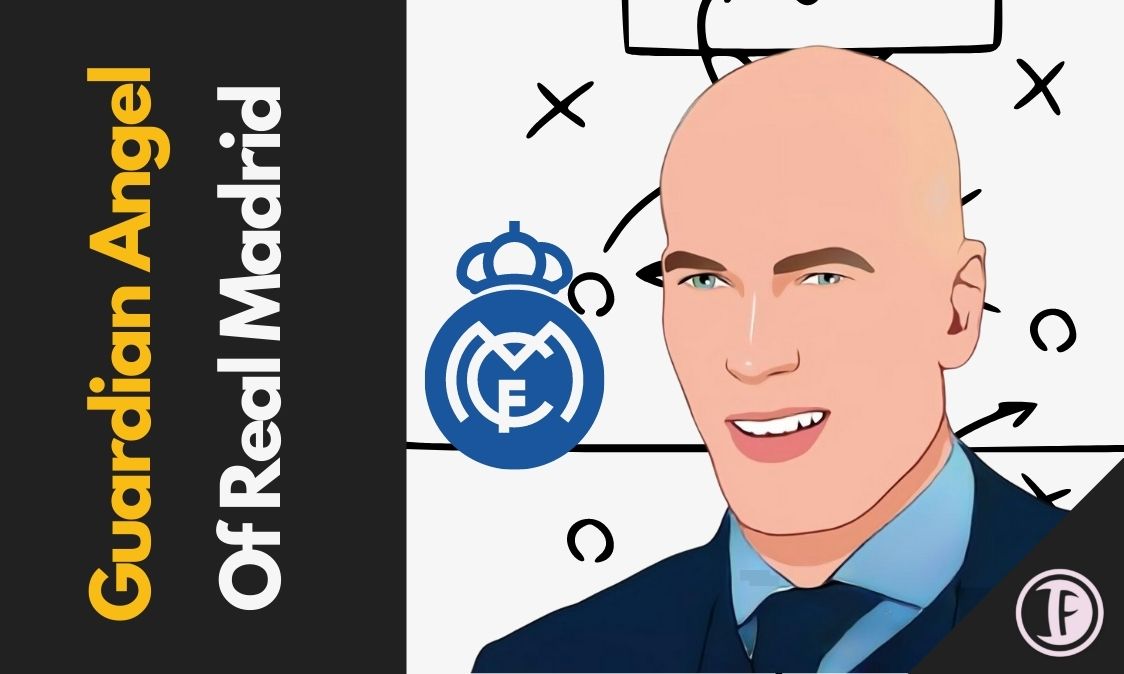 Starting of an era
Here, I will be talking about one of the most important figures in Real Madrid history. He is none other than the legend himself, Zinedine Yazid Zidane, also called Zizou. A brilliant playmaker, a world cup winner, 3X FIFA Player Of The Year Winner, Champions League Winner, and an amazing human being, Zinedine Zidane has certainly made his mark over the footballing world which will be alive for eternity.
Zinedine Zidane has done a lot for the success of Real Madrid, both as  a player and a coach. The most memorable moment of Zizou in the Royal White shirt was when he scored a left-footed volley against Bayer Leverkusen in the 2002 UEFA Champions League final which led Real Madrid to lift the coveted Champions League trophy for the 9th time in the club's history. The Zizou goal against Leverkusen is still considered one of the greatest goals in the competition's history. A born winner, Zizou led his national team France to win the 1998 World Cup. He scored two goals in the final and made his mark in the football universe.
2015-16 Season – The Introduction Of Zizou As A Head Coach
Let's dive straight into the 2015/16 Season, the 10th times' Champions League Winners Real Madrid was having a tough season on the road. Real Madrid sacked the La Decima Winning coach Carlo Ancelloti  on 25 May 2015 and appointed Rafa Benitez as the head coach on 3 May 2015. The season kicked off with a draw against Sporting de Gijon following wins against Betis, Espanyol, Shakhtar Donetsk, Granada, and Athletic Bilbao. After that, the matches were pretty on and off. Real Madrid suffered a humiliating 0-4 loss against their arch-rivals Barcelona.
Finally, on 4 January 2016, Real Madrid appointed Zinedine Zidane, a blessing in disguise as Zinedine Zidane as Real Madrid Manager after sacking of Benitez. The Zizou Era started with the 5-0 win against Deportivo La Coruna. Real Madrid then went on to win all the games until they lost against VFL Wolfsburg in the first leg of the Champions League Quarter-Finals by a scoreline of 0-2. Zizou in his first El Classico as a manager won 1-2 against Barcelona with a Cristiano Ronaldo winner despite being 1 man down.
The Comeback
Real Madrid then had an incredible comeback against VFL Wolfsburg in the second leg with a Cristiano Ronaldo hattrick sending the Wolfsburg manager back to the slums. They then went on to defeat Manchester City in the semifinals and finally winning against their arch city rivals Atletico Madrid in the Finals. Real Madrid beat Atletico Madrid in penalties (5-3) with Cristiano scoring the final penalty of the game.
This was just the beginning of the Zizou Managerial era in Real Madrid. Real Madrid won their 11th Champions League in Milan, Italy. 11 'E'L'E'V'E'N' RESPECT. Everyone started appreciating the genius of the bald man none other than Zinedine Yazid Zidane.
2016/17 Season – The Domestic Double of Zizou
After a brilliant 2015-16 season, Zidane and his men had a mammoth task ahead to win the Spanish League, retain the Champions League, and the King's Cup which Zizou never really cared about. 2016-17 Season was Real Madrid's 113th season in existence and 86th consecutive season in the top flight. It was one of the most successful and wonderful seasons in the history of Real Madrid. Real Madrid went on to complete the double i.e. Laliga and Champions League. It was Real Madrid's 33rd La Liga win and 12th Champions League (La Duodecima).
At the beginning of the season, Real Madrid won 3-2 against Sevilla in the UEFA Super Cup final with Dani Carvajal's solo winner. Oh Man, That was a goal I would never ever forget. Real Madrid went on to create many records in the season. They went on to win 16 games consecutively in La Liga. The victory of the 2016 FIFA Club World Cup by defeating Kashima Antlers with a scoreline of 4-2 with a hat trick from Cristiano Ronaldo and a goal from Benzema is a fresh memory for all the Madridistas around the globe. This was a wonderful season for the Los Blancos. They lost, they won and they drew. But, one thing never changed the belief in their coach Zidane. The players treated every match as if they were going to a battle for their king Zidane.
Unbeaten warriors
Real Madrid made their unbeaten run up to 40 matches the record previously held by Barcelona of 39 matches. All and all, Real Madrid won their 12th Champions League by defeating Juventus with a scoreline of 4-1 with goals coming from Ronaldo, Casemiro, and Asensio. This was Zidane's second Champions League as a head coach. One thing I need to point out is that the Real Madrid Team of 2016-17 season is still considered one of the best squads of all time. They had everything. The depth in the squad, game-changing substitutes, the winning mentality, late winners, and what not.
Zinedine Zidane assembled all these in a magical potion and gave it to all the players and staff. Real Madrid went out all guns blazing and made their dominance felt all over Europe and the world. Even the goddess at Cibeles was smiling seeing the dominance of the Royal Whites all over Europe and the world. After all, the club is made to win and they were doing it amazingly.
2017/18 Season – The Last Season Of Ronaldo
Credit: Антон Зайцев, CC BY-SA 3.0 GFDL, via Wikimedia Commons
After a whopping 2016-17 season, Real Madrid started their 2017-18 campaign (their 114th season in existence). Zidane and his men were already winners of the last two Champions League i.e. the biggest club competition. On August 7, Real Madrid won their 3rd consecutive UEFA Super Cup against Manchester United by a scoreline of 2-1 with golazos coming from Casemiro and Isco. Also, In August, Real Madrid won against Barcelona in 2 legged Supercopa de Espana. A 1-3 win against Barcelona at Camp Nou and 2-0 win in Santiago Bernabeu made Real Madrid the Supercopa de Espana winners.
Real Madrid also won the 2017-18 Club World Cup after beating Gremio 1-0 in the finals. However, after winning the Club World Cup Real Madrid was welcomed by Barcelona with a 3-0 bashing. Real Madrid lost against their arch-rivals Barcelona in the first El Clasico of the season.  Real Madrid was ranked 3rd in the La Liga. Also, Real Madrid got knocked out from Copa del Ray quarter finals.
Despite not having an amazing domestic run, Real Madrid went on to beat the likes of PSG, Juventus and Bayern Munich. PSG were the French Champions, Juventus were the Italian Champions and Bayern Munich were the German Champions. Real Madrid went on to knock out all 3 of them in a single campaign. When the going gets tough, the tough get going. Zidane's man-management, tactics, the belief in his players, and the respect he had for every opponent led Real Madrid to win their 13th Champions League against Liverpool. Gareth Bale scored one of the best Champions League Goals that too in a final form in which the magician Zizou was definitely proud and felt a sort of nostalgia. Since, he also scored in the 2002 Champions League Final with a left-footed volley. Man, Oh, Man…Football is amazing.
Not to forget, Ronaldo scored one of the best goals of his career against Juventus in the Champions League quarter finals. He received a standing ovation from the Juventus fans. He is only one of the few players who has received applause from the opponent's fans. Ronaldo loved this gesture so much, he left Real Madrid for Juventus after having some disputes with the club's board. Real Madrid misses Ronaldo, and I know Ronaldo misses Real Madrid too. The match made in heaven. The ego destroyed it all.
The Departure 
After the 2017-18 season, Ronaldo and Zidane both left the club. This was one of the saddest moments for me personally as a Madridista. Just like we need to move on, Real Madrid had to move on. Real Madrid hired Julen Lopetegui as the head coach of Real Madrid just before the FIFA World Cup. Since Julen was already the manager of Spain and he still signed a contract for Real Madrid, this felt like a massive crime. The Football Association of Spain fired him from the job for which Spain had to go through a tough patch in the tournament. With the end of the World Cup, Julen was welcomed by a 4-1 thrashing by the rivals Atletico Madrid in the UEFA Super League Final.
The 2018-19 season was one of the worst seasons of Real Madrid. They suffered another huge defeat by the hands of Barcelona. After this game, Julen Lopetegui was fired. He was not a bad manager, but I guess things didn't really work out well. He is leading Sevilla to Europa League Finals against Inter Milan. (Also when this is posted, the match would already have been finished).
Soon after Julen left the club, Santiago Solari was appointed as the caretaker of Real Madrid. The positivity of the Madridismo he had in him definitely was showcased in his work. Vinicius Junior made a massive impact in the Real Madrid dressing room. Benzema definitely stepped up his game and became the top scorer.
Despite everything that has been happening bad, Real Madrid players made sure they will be back. All the eyes of Madridistas were on the players whom they treat as warriors. True Madridistas never lost their belief in the team. Real Madrid lost 4 times against Barcelona in the same season. They were knocked out from the Champions League or let's say they were thrashed out from the Champions League by AFC Ajax by a scoreline of 4-1 in the second leg. Sergio Ramos was suspended from the game and he watched his team getting out from the Champions League for which he couldn't do anything at that moment.
The Comeback
There is a saying right – "Tough times don't last, tough people do." There was a terribly tough time in the 2018-19 season for Real Madrid. The dominance of the team was slowly fading away. Just like when a city is about to get destroyed, a superhero comes and saves the day. Finally, On March 11, 2019, Zinedine Zidane came to Real Madrid to take over the charge and make Real Madrid the same force again. It was a win-win situation for all the Madridistas including me.
I am also the one who supported this team through all thicks and thins. I cried when Ajax battered Real Madrid and Vinicius cried. In spite of a trophyless season, I was not so unhappy as I knew Zidane was there. I had the belief he would definitely make this team the force every team feared to play. I had one of the most memorable days as a Madridista when Zidane rejoined Real Madrid on 11th March, it was my birthday. This was a perfect birthday gift I could ever imagine. The season when there was no Ronaldo and Zidane was tough for all the Madridistas to watch and it went out pretty bad. But, there was a new ray of hope. With Zidane in command, Real Madrid was destined to do greater things in the future.
2019-20 Season – The COVID Season of SuperCopa de Espana and La Liga
Real Madrid bought Luka Jovic, Eden Hazard, and Ferland Mendy from Frankfurt, Chelsea, and Lyon respectively with a big job in front of them. The job was none other than lifting Real Madrid from the shambles and taking them to where they belong which is none other than the top.
The first match of the season kicked off against Celta de Vigo with Real Madrid winning 3-1 against the Aspas' warriors. The 2019-20 season was a bit on and off for Real Madrid. They won, lost, and drew too. Their arch-rivals Barcelona were also in a bad patch throughout the season. At a point in the season, Barcelona was leading the La Liga table. Real Madrid won some crucial matches in the season including the Derby against Atletico Madrid, El Classico, and the match against Sevilla.
The 34 times La Liga Champions then went on to win Supercopa de Espana defeating Valencia and Atletico Madrid in the semi-finals and finals respectively. Real Madrid beat Atletico Madrid on penalties with Courtois giving one of his career's best performances. Also, Real Madrid went on a winning streak of 10 games post COVID-19 Lockdown. It was one of the best winning streaks for a title. Real Madrid had the best defensive record all over Europe. Everyone stepped up when it mattered the most. The rejuvenation of the team by Zizou made it all happen. Marco Asensio came back after a career-threatening injury and had a dream comeback most players dream to have.
Sergio Ramos had his career-best scoring season. He scored a total of 11 goals in the La Liga campaign. Karim Benzema was the highest scorer of Real Madrid with a goal tally of 21. All and all, Real Madrid hired 2 coaches after Zidane left. They had a good time with the club. But, nothing was as good for Real Madrid as Zizou.
Legacy of a true Leader
Zidane and Real Madrid are a match made in heaven. He is the silent guardian of this big club. Zidane has already won 3 Champions Leagues, 2 Club World Cups, 2 European Super Cups and 2 Spanish Super Cups. That's a total of 11 titles for Zidane as a Real Madrid coach. Real Madrid's latest La Liga win was his 11th title as Real Madrid coach. That's a feat he has achieved in 209 matches, one trophy every 19 matches. Real Madrid may not have Ronaldo now, but they definitely have Zidane. All Real Madrid needs now is a missing key to the puzzle and they are ready to rule Europe again.
Z-I-N-E-D-I-N-E Z-I-D-A-N-E  THE MAN, THE MYTH, THE LEGEND.
Zizou is the man who holds the ideologies of the club and all its important pieces together. God bless the mother who gave birth to the legend Zizou. On behalf of every Madridista, I want to say Thank you to our beloved Zizou. We all love you.
GRANDE ZIZOU…..
Zidane departure
After having a rollercoaster season with Real Madrid, Zidane steps down as a Madrid head coach for the second time.
His last season with Real Madrid went trophyless. As he once stated "I won't be Sir Alex Ferguson of Real Madrid". So it was clear for him to leave. He is now replaced by Carlo Ancelotti, under whom Zidane and Real Madrid won their 10th UCL title after 12 years. Whatever may be the reason for him leaving Madrid, his name is written in golden words in the history of Real Madrid.
The era that will never be forgotten – THE GOLDEN ERA.
This post is written by Anish Hamal Blanco. You can follow him on his facebook.