Top-of-the-table Arsenal were humiliated by Manchester City with a 4-1 hammering on Wednesday. But it was not only the main highlight of the game as Defender Ben White was captured aggressively approaching and grabbing hold of City's Phil Foden after the full-time whistle.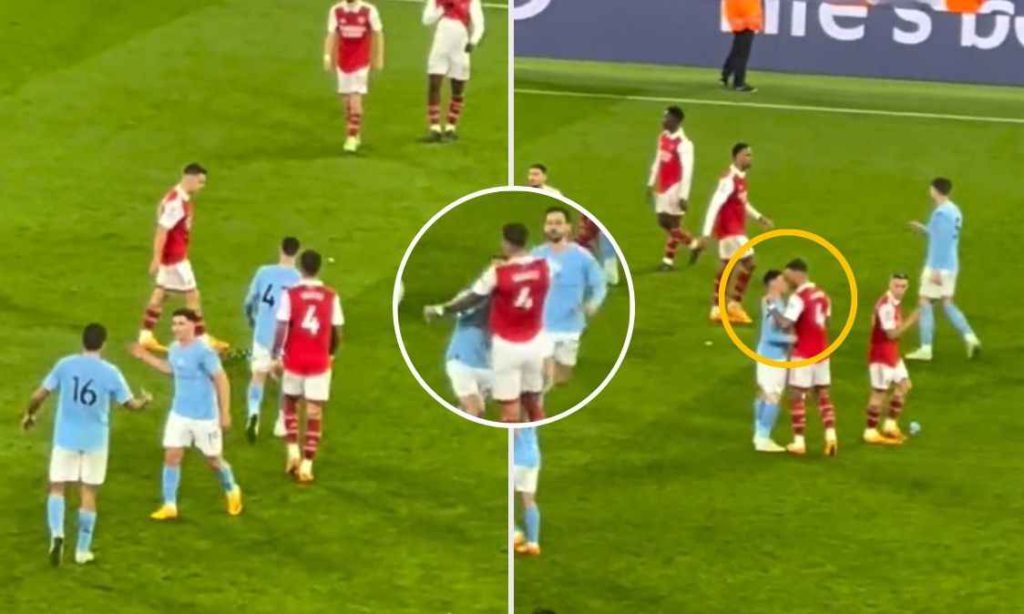 The game was of huge importance as Manchester City was closing the gap with Arsenal in the race for the Premier League title. But Belgian midfielder Kevin De Druyne and Norwegian striker Erling Haaland were on top of their game and helped to sweep Arsenal apart from the game.
De Bruyne's brace, Stone's, and Haaland's goal each secured a comfortable 4-1 victory for Manchester City over Arsenal, despite Holding's consolation goal.
But after a full-time whistle Arsenal's defender, Ben White was involved in one of the bizarre confronts with Manchester City's Phil Foden. White appeared to grab Foden around the neck area, following an exchange of words between the two players. Then Phil Foden reacted by pushing White away.
Video of Ben White confronting Phil Foden
The incident occurred while Foden was walking to shake hands with Arsenal's Leonardo Trossard. The post-match altercation between Ben White and Phil Foden has caused a stir among fans, with many condemning White's actions.
Social media has been flooded with comments labeling the incident as unnecessary and inappropriate. White has received a significant amount of criticism, with fans expressing their disapproval of his behavior towards Foden. It remains to be seen if any disciplinary action will be taken by the football authorities, but the incident has certainly sparked debate among fans and the wider football community.
Read more exciting news at Football Devils.