The first El Classico of the 2022/23 season got spicy as a fight broke between Real Madrid and Barcelona. The moment got heated and the players went on head to head to confront each other. But the question is What actually happened that broke the fight between the players.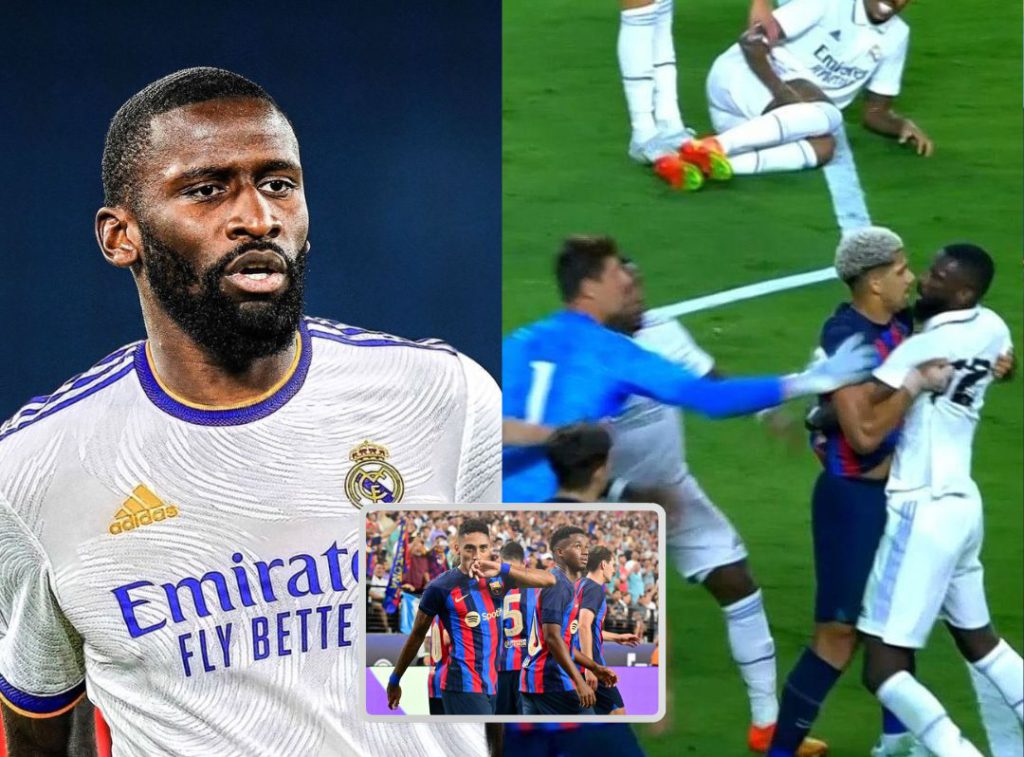 What happened in the El Classico?
The two Spanish rivals, Real Madrid and Barcelona again met in club friendlies ahead of the 2022/23 season. Barcelona came out on top as they beat their long-time rival by 1-0, Thanks to Raphinha's goal. He struck an incredible goal in the top right corner from outside of the box to beat Courtois.
Just after 15 minutes of the goal, a moment broke in the Allegiant Stadium in Las Vegas that let the players against each other. Words were exchanged and players even pushed each other. However, the most intense moment was between Real Madrid's new signing Antonio Rudiger, and Barca's Araujo.
Did Rudiger start the fight?
The root cause of the fight in the El Classico came in the 42nd minute. Real's forward Rodrygo was running with the ball in Barcelona's half as Jordi Alba tackled the player. Immediately, Alba was given a yellow card and that's when everything started.
The first players that were seen getting involved in the brawl were Madrid's Mariano and Barca's Sergio Busquets. After some exchange of words, the players started pushing each other. Lewandowski was also seen convincing other players to not fight.
But the intense moment was between Araujo and Rudiger as they caught each other. They nearly headbutted and after a moment, other players separated them.
So, Rudiger did not start the fight but was involved in the contest.
Read more exciting news at Football Devils.