Argentinian goalkeeper Emiliano Martinez has reignited controversy after recreating his infamous celebration in his national team's first game since their World Cup triumph in Qatar 2022.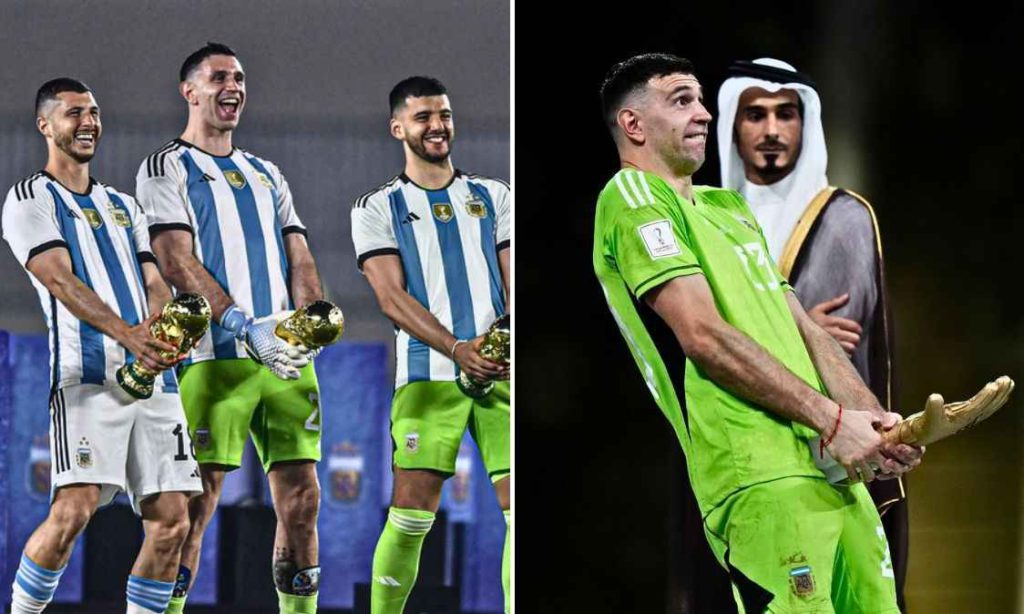 Martinez made a crucial save against France in the final match that helped Argentina win World Cup in Qatar. He triumphed against the Netherlands in the penalty shootout as well as, of course, in the final against France. Emiliano was given the coveted Golden Glove award for his valiant effort.
However, his subsequent celebration, in which he struck a bizarre pose with the trophy, drew criticism from both fans and critics alike. Former Liverpool player Graeme Souness even called out Argentine goalkeeper Emiliano Martinez as a vulgar clown.
Martinez didn't stop there as Aston Villa's goalkeeper was also captured carrying a baby doll with Mbappe's mask in it while the entire Argentina squad was on in a victory parade.
Despite all the backlash, Martinez chose to recreate that infamous celebration yet again with his teammates in Argentina's first match after the World Cup win.
The gesture, which Martinez had previously performed during Argentina's World Cup triumph in Qatar, has divided opinions amongst fans online. The decision to repeat the celebration during their first home game after the World Cup victory has sparked a mixed reaction from the public.
However, Argentina secured a 2-0 victory over Panama in a recent match, with goalkeeper Emiliano Martinez keeping a clean sheet. Thiago Almada scored the opening goal for Argentina in the 78th minute, while Lionel Messi secured the win with a spectacular free-kick in the 89th minute.
The goalkeeper was also seen in tears before the start of the match as it was the first game after that dramatic World Cup win. But, What is your opinion on Emi Martinez's controversial celebration?
Read more exciting news and articles at Football Devils.