After winning the Champions League Final in Porto, Fans are demanding N'Golo Kante to win the Ballon d'Or. He had yet another dominating display in the big match. Overall, Kante had a brilliant season.
Many football fans believe that he is the favorite to win Ballon D'or this year. He was phenomenal in the Champions League final game against Premier League winners Manchester City. The only goal scored by Kai Havertz secured Chelsea's Second ever UCL trophy.
Kante's Statistics in The Champions League Final 
In the Champions League Final, despite being the shortest player on the pitch Kante won 88% of the duels. Similarly, he had 85% pass accuracy and attempted 3 tackles on which all 3 tackles were successful. Also, he made 2 vital interceptions and 2 clearances. He was all over the pitch facilitating the Chelsea forwards as well as stopping Manchester City's attack. This brilliant performance made him Man of the Match in the final.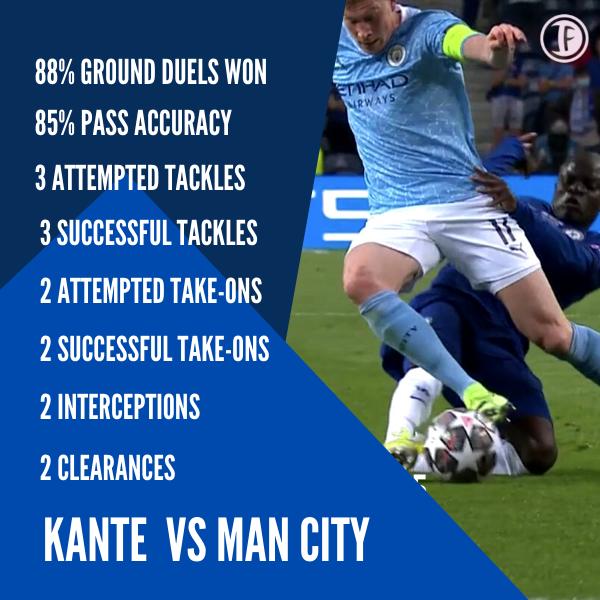 This season Kante was in a beast mood controlling every game he had played especially the big games. Many fans and sources believe that this is the year of N'Golo to win Ballon d'Or ahead of Lionel Messi and Cristiano Ronaldo. He can be the second player to win Ballon d'Or in the Messi Ronaldo era. Luka Modric did it in 2018. He was also Man of the Match in both legs in Quater Final and Semi-Final against Borussia Dortmund and Real Madrid respectively.
N'Golo Kante's Story So Far
From playing in the Third Division in 2012 to win the Champions League in 2021, he's had a great footballing journey. In the last five years, N'Golo Kante has won 1 World Cup, 2 Premier League, 1 FA Cup, 1 Europa League, and now Champions League. His story has been nothing but an inspiration to anyone.
Kante's chances to win Ballon d'Or 
N'Golo Kante has a huge chance to win Ballon d'Or this year as he had a fantastic run with the club. He is a key player for both club and country. You can see him involved everywhere defense, midfield, and attack. If France wins the upcoming Euro Cup then he will be the Number One Contender for the Ballon d'Or along with Lionel Messi and Cristiano Ronaldo. Messi and Ronaldo have helped their club to win Copa Del Ray and Copa Italia respectively. Their chances also depend on the upcoming Euro Cup and Copa America.