Manchester United finished the 2020/2021 season on a low despite finishing second behind Manchester City in the Premier League. They lost to Villareal on a dramatic penalty shoot-out in the Europa League final.
The heartbreaking loss denied Ole Gunnar Solskjaer the chance to lift his first trophy as United manager.
Currently, Man United has few star players which include the likes of Bruno Fernandes, Edinson Cavani and Paul Pogba. However, it was clear Man United should not rely only on these players after the Europa League final.
So, Man United needs to have a busy summer if they want to win trophies next season. Here are four different positions Man United can improve next season to challenge the Premier League:

Right-Wing
The first position to improve Man United has to be the Right-Wing which has been vacant for a while. Young Mason Greenwood has been covering Right-Wing for two seasons who is a natural Center Forward.
Marcus Rashford has been playing in Right-Wing when Mason Greenwood is not available. Daniel James's form has dipped massively after a flying start. So, there is a clear need for Right Winger.
Center-Back
The second Position to improve is Center Back. Harry Maguire has been an ever-present in the United backline although he missed few games at the end of the season through injury. He will be ready for next season and he needs a better partner.
Current Man United senior Center Back Victor Lindelof has done okay. Man United needs an even better Center Back if they are to win Premier League next season.
Meanwhile, Eric Baily has had numerous injury record since joining United from Villareal. Lastly, the academy product Axel Tuanzebe is not considered to be ready.
Defensive Midfielder 
Third Position and most vital position to improve the way Man United plays has to be Defensive Midfield. Currently, Solskjaer plays 2 energetic defensive-minded midfielders Fred and Mctominay to stop the attack, press the opposition as well as cover the Center Backs.
This limits the support for attack often leaving Bruno Fernandes alone to create things for Man United in the final third.
If Man United goes for a strong Defensive Midfielder who can do the dirty work alone and pass the ball forward, Fred and Mctominay's partnership is no longer needed.
Other Midfielder who plays in number 8 (Pogba, Mctominay or even Van De Beek) behind Bruno can join the attack knowing he has cover at the back. This will lead to a more dynamic and attacking Man United side.
Center Forward 
Even though Edinson Cavani has signed a new one-year contract at Man United, they need a long-term solution. Also, given the age, Cavani is not likely to start every match next season. Mason Greenwood can fulfill that void but adding another prolific striker to the team will only make them better.
Recommended Players for Manchester United
Here is Football Devil's Pick. Do you agree? or you have another better option? Then don't forget to comment below!
Jadon Sancho
Borussia Dortmund English Right-Winger Jadon Sancho has been on Man United's radar for a while now. Jadon Sancho was very close to signing with Red Devils last season, reported 120M fee was only the problem.
This season however Dortmund is expected to lower the fee. Jadon Sancho can easily solve the Right-Wing problem for Man United adding another dimension to attack.
If Sancho is not available, Ismaila Sarr from Watford can be another option.
Pau Torres / Raphael Varane
Villareals' 24 years old Pau Torres can be a brilliant option to partner with Harry Maguire next season. Tall 6.26 ft, left-footed defender is fast and good with the ball which will suit Man United's gameplay.
Meanwhile, the reputation, as well as the experience itself, speaks for Raphael Varane. If Man United can lure in Real Madrid's star CenterBack it would be a brilliant signing.
If Torres and Varane are not available, Jules Kounde from Sevilla will be another option worth looking at. He is just 22, quick, agile, strong and very good in the air as well as in possession.
Wilfred Ndidi
The 24 years old Nigerian International is one of the most underrated players in the Premier League. He is excellent at tackling, winning the ball back, stopping the opposition attacks as well as long-range strikes.
The right-footed powerhouse can solve the defensive midfield issue at Man United.
Harry Kane
As for the striker, the best of best in the Premier League, top soccer as well as the top for assist Harry Kane is available. The Tottenham star expressed his feelings to leave after yet another trophyless season.
Kane guarantees goals that's for sure. Especially, rival Man City lurking on Horzion for Kane, what better time to get him than now?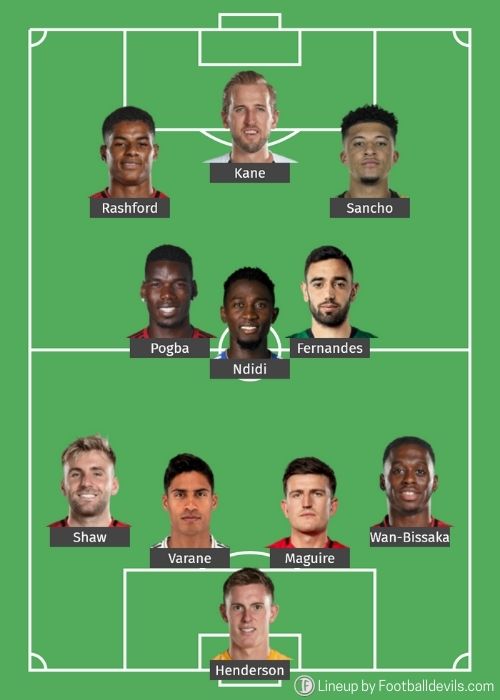 Did you love the article? How was it? Comment down below and let us know!