In this article, we will cove the Players reaction to Messi and Neymar booed by the fans of Paris Saint Germain.
Various football players have united to support Messi and Neymar as they were booed by their own fans in the PSG's match against Bordeaux. PSG fans chanted and whistled even before the game started that did not stop until the final whistle.
Players Reaction to Messi and Neymar booed
Some players did not take the incident lightly and they stood with the Argentine and Brazilian forward. Their former teammate Luis Suarez expressed his frustration to the fans while Mbappe comforted LaPulga during the training. Cesc Fabregas also could not hold back himself and bashed the fans and their coach Pochetino also shared his reaction.
Let's explore what their former teammates actually said,
Luis Suarez reaction
The first player to defend the Messi-Neymar pair is their former teammate, Luis Suarez. He thinks that football does not remember the legacy they carry as he said on his Instagram,
"As always, football has a very short memory. Always with you!@leomessi @neymarjr. I LOVE YOU SO MUCH"
Messi, Suarez, and Neymar formed a deadly trio during their time in Barcelona between 2014 and 2017. They surpassed the football world as they won every trophy a team could win. The MSN trio recorded a remarkable 364 goals and 173 assists in just 4 years.
Fabregas thinks its a Shame
Likewise, their former teammate, Cesc Fabregas, who played with Messi between 2011 and 2014 also reacted to the incident.
He said that the PSG fan's action was Shameful. And he is with them in their hard times. He tweeted the message where he said,
"Football has no memory whatsoever… it's a shame. Always with you brothers"
Pochetino commented
PSG's current coach Mauricio Pochetino says that their defeat to Real Madrid was disappointing but the more saddening part is the fan's answer that targetted the superstars. He said,
"Everyone who loves PSG is sad after the disappointment of Madrid. I'm sad with what I experienced today." He added""Everyone who loves PSG is sad after the disappointment of Madrid. I'm sad with what I experienced today."
Kimpembe understands the fans' hatred towards the players
PSG center forward also expressed his views regarding the fans' whistles during the match. He addressed the match saying,
"Inevitably we hear the whistles, even if we are focused and concentrated on our match." He added, "We understand their disappointment, we understand their hatred."
One thing we as a fan must agree with Kimpembe is that the win or loss is collective. And the whole family must stick together through all good and bad.
Antonella Roccuzzo: Messi's wife almost cried during the match
The most heartbreaking reaction to the fan's action towards Messi was by his wife, Antonella. Antonella was present in the match and the camera captured her face.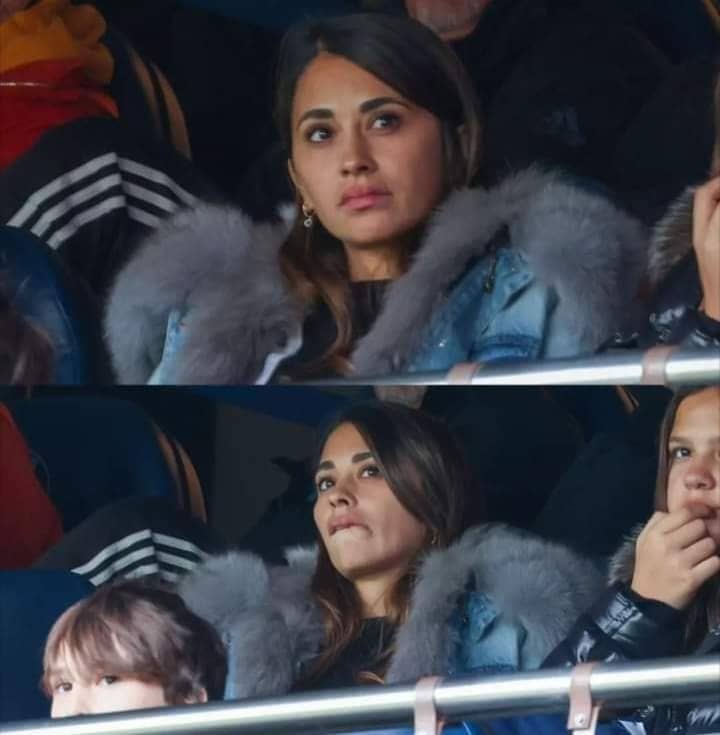 Throughout the match, Messi's partner was sad and even nearly cried at one point in the game.
Why did the PSG fans boo Messi and Neymar?
The main reason the fans are booing their own superstars is EXPECTATION. They expected them to bring the Champions League glory to Paris. For that, the PSG board did everything to make it happen. But it has become the costliest failure in the history of football.
The main reason PSG bought Messi and Neymar was to achieve the Champions League glory. They bought Neymar in 2017, in the hefty amount of 222 million Euros making him the most expensive player of all time. And in August of 2021, PSG added Messi from Barcelona with a signing bonus of 25 million euros. His net salary at the club is 25 million excluding bonuses and incentives.
Moreover, PSG also took a risky move of not letting Mbappe go away from the club last. Last year they were offered €170M by Real Madrid and they refused it just to play Messi, Neymar, and Mbappe together.
But their plan to win the Champions League this season was broken by Real Madrid as they beat by 3-2 on aggregate. And PSG fans did not take it positively.
Read more exciting news at Football Devils.