It's been a long time since Mario celebrated with his iconic celebration "Why Always Me". At that time he was just 22 years old and was highly anticipated to be one of the best players. But surprisingly, his career was full of controversies and in just a few years he was out of everyone's memory. As he is currently playing in the Turkish league, Adana Demirspor.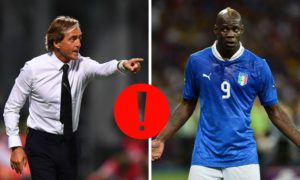 But recently, he has hit the headline of the news as the current manager of the Italian team, Roberto Mancini has called him back in the national team for the first time in 3 years.
The last time he played for Italy was in 2018 and since then he has been outside of Azzurri as well as from the media too. His past time in the team was full of controversies and excitements.
Critics have started a long debate on the pros and cons of former Milan striker Mario Balotelli again joining the team. Today, we will discuss why calling back Mario Balotelli is a bad decision for Italy.
Before going directly to the points, why it might be a bad recall, let's go through the last time Balotelli played and scored for the Italy side.
Mario Last game and goals for Italy
When was the last time Mario played for Italy?
The last time M Balotelli played for the Azzuri was on September 8, 2018, in the UEFA Nations League. The final score was 1-1 where Piotr Zielinski scored for Poland while Jorgan scored for the Italian side.
Mario Balotelli led the team from the front along with Fabio Bernadeschi and L Signe. The match was held in the Stadio Renato Dall'Ara stadium in Bologna, Italy.
When did the last time Mario scored for Italy?
The former Milan striker Mario scored his last goal for Italy in a friendly match against Saudi Arabia. He scored an opener goal in the 21 minutes as Italy won the game by a near scoreline of 2-1.
For his performance, coach Roberto also praised him saying,
"Balotelli can do better, much better, but I thought he did pretty good in the first half." He added, "He scored a goal, which is important for a striker, but of course he can do more."
So, is it really a bad idea?
Italian fans must be in a dilemma whether it was a good decision by the coach to re-include the team or not. And it is absolutely justifiable for them to do so.
Yes, Nobody can ignore the talent he possesses and can be a gamechanger at any moment. He can dominate the game just like he did against Spain in 2012 when they won by 2-0. But definitely, he has a behavioral problem. And those off-field characteristics have largely affected his career. These are the absolute reasons how he went from playing in the top league to some Turkish league before the age of 30.
Let's GO…
1. Defensive Problem
By position, Super Mario is a poacher who is very much effective in the front. But he barely contributes in the defense. During his previous reign, Italian used to play with their iconic Catenaccio style of play. It did not require much for a striker to contribute to the defense as defenders were very much effective. And Mario was used to that style of play and because of this, he frequently found it hard to play in the English style.
As Patrick Vieria said,
"His seeming laziness comes down to a stylistic difference between Italian soccer (where strikers don't have to defend), and English soccer (where strikers are expected to track back into the midfield and try to win the ball)."
But since then football has changed a lot, and Italian style too. They are equally focused on strikers needing to make contributions in defense. And if Balotelli failed to adopt this style of play then obviously he would be of no use to the team.
2. Showboating
Do you remember Mario's open goal miss against LA Galaxy? It happened in the match vs LA Galaxy where Mario was in front of a post along with his teammate Dzeko. And the only thing left was just to shoot the ball in the post or pass it to Edin Dzeko.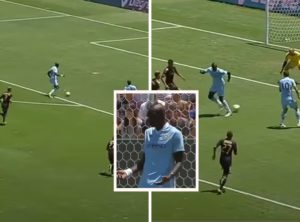 But, the former Manchester City forward had other things in his mind. He decided to showboat his skills and that went bad, Really Bad. His teammate and coach, Roberto, at that time, were furious as the ball go to the side of the post.
And the worst thing after that, He just walked away as if nothing happened. And Mancini substituted him in the next minute and brought Milner in.
3. Unreliable
Jose Mourinho has a perfect memory of his time with Mario Balotelli at Inter Milan. In his interview with CNN, the reporter asked him who was the most problematic player he has ever managed?
The talk turned towards Mario as Mourinho said,
"We went to Kazane in the UCL, in that match, I had all my strikers injured. No Milito, No Eto, I was really in trouble and Mario was the only one. Mario hot the yellow card in minutes 42, 42. At half time, I spent 14 minutes of the 15 only speaking with Mario"
He added "Mario, I cannot make a change, I don't have a striker on the bench. Don't touch anybody, Play only with the ball, And even if anything happened even if someone provocates or referee makes a mistake, No Reaction."
Then he laughingly said, In the 46 minutes… Red Card.
The CNN reported Pedro Pinto was laughingly left out with the word "No Way" coming out from his mouth.
Well, this may sound funny in some ways, but for a coach nothing bad could happen than this. This totally displays the ignorance of Mario, which can be really upsetting for any coach.
4. Ignorance
One of the prime examples of his Ignorance was back in March of 2012. He was in Manchester City and his then coach Roberto Manici set the rule that 48 hours prior to the game, no players can go out of town.
But Mari did not think that the rule was also for him as he went to the strip club in Liverpool at 2 AM. And deservedly, he was fined a week's wage as a punishment which was about 120,000 pounds.
5. Attitude
The 2010 Golden Boy Mario is an atom bomb when dropped properly, he can lead the team to victory and if unmanaged properly, it will damage the team. Mario had bad arguments with different managers at different clubs and nations, almost everywhere. This clearly shows his bad attitude that forces the managers to take him out.
Well, it may be because of different reasons, for such an attitude but it totally not justifiable. Barcelona's legend Jhan Cruyff defended him and his attitude as he should not be blamed for his Attitude. It's the club's fault that they failed to give proper education.
He clearly said,
'To me, if someone is not educated, he doesn't play. To me, it is no fault of the player, but of the team that makes him play. The problem is not Mario, but the education that was given to him.
But along with his age, Mario has faced various difficulties. Let's hope he has improved his controversial persona.
Above mentioned cons of having Mario Balotelli in a team are mostly related to his vexed behavior rather than his lack of skills in the field. And it is his last chance for a former Manchester City striker to show his value to the world.