To answer the question is Ronaldo the main problem in Manchester United, we need to take a short back to the United stat before and after the joining of CR7.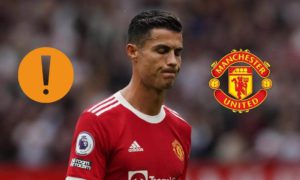 United finished the 2020-21 season second behind Manchester City with 74 points which was a good position considering everything that happened post, Sir Alex Fergurson.
Man U board-backed manager Ole Gunnar Solskjaer for the 2021-22 season with the blockbuster signing of Sancho, Varane and Ronaldo. Additionally, they signed Ronaldo in the summer transfer window. United welcomed their hero, with high hope of achieving the same glory they achieved 12 years back. And Ronaldo was simply not letting them down.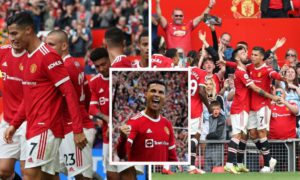 The return of Ronaldo to Man United made highlights all over the media. The first game of the new season was cherry on the top as Man United beat Newcastle 4-1 and Cristiano Ronaldo scored 2 goals.
Ronaldo the main problem in Manchester
So, let's back to the main question of Ronaldo's problem at Manchester. Surely, he has great stats even he is criticized highly right now.
As of January 11, 2021, the Portuguese striker has played 21 matches for United and scored 14 goals with 3 assists. Not bad for a 36-year-old striker who is in the downfall of his career. Manchester United can not ask for more than that from a striker, but how the highest scorer of United becomes an obstacle.
It is more than just a stat we see in the table and the headlines that hit our social media wall.  Let's go through the issue that comes together with the triumph that C. Ronaldo brings.
1. Impact on defense
You can ask United's Number 7 for everything in the front whether scoring goals, assists, headers, positioning, literally everything. The one thing anyone can't expect from the 5 times Ballon D'or winner is to help in defense.
Gary Neville exactly pointed out the problem Man U could have with Cris tiano in The Overlap Live Fan Debate program. He clearly said,
"You couldn't carry him in the big games because he generally doesn't work hard. The idea that Manchester United are going to be a pressing team with Cristiano is never going to happen because he wasn't pressing 10 years ago." 
He added, "If you then put Bruno Fernandes in there, if you then put Mason Greenwood in there, and Paul Pogba in there with Cristiano, you're going to get cut through on the counter and you ain't winning any leagues."
And Neville also explained what is the solution to Ronaldo's trouble in the defense. He answered, "The team, Manchester United is better, however they have to find a way to play with Ronaldo and compensate him."
Ronaldo guarantees goals and will be at the right place at the right time to score goals but he's not going to lead the press. Man United needs a solution for Ronaldo to fourish, and that solution hasn't yet been found. Current manager Ragnick is has been experimenting with different formations like 4-2-2-2, which is simply not working as they recently lost  0-1 to Wolves at home for the first time in Premier League.
2. The Undroppable Stats
The stature of Ronaldo is that he always wants to play. If he is dropped out from any game then his coach better is ready with the explanation. Moreover, if the team lost the game without Ronaldo, then the coach better be ready for the criticism.
So, Ronaldo missing the game is just not gonna happen easily. And no chance if a team's manager does not include him in the big matches. So, the team must prepare their lineup with Ronaldo and cope with the defects he brings.
Ralf Ragnick dropped Ronaldo out of the squad against Gerrard's Aston Villa in the third-round meeting. Critics undoubtedly questioned his decision, but it went well for Ragnick as the team came victorious.
3. No chance to youngsters
His undroppable stature has a direct impact on the United's young players getting the chance to prove them. Do you remember the last season when Bruno Fernandes was all impacting the games and all signing? In the 2020/21 season, he made 58 appearances in all competitions and recorded 28 goals + 17 assists.
So, altogether he has 45 goals + assists making a 0.78 goals and assists ratio. Now, let's compare his previous season stats with this year. Till now, he has recorded just 5 goals and 9 assists in 25 appearances. Just a 0.56 goals +assists ratio.
He is not the only player who has had a downgrade in the performance after the grand signing of the 2 times The Best FIFA Men's player winner. There are other youngsters like Mason Greenwood, Jadon Sancho, and Marcus Rashford who are getting less chance than usual.
Just like English manager, Gareth Southgate predicted the fact that time will tell the effect of Ronaldo signing on the English young duo back in September of 2021.
4. Less teamwork
United has become a team that tends to rely on individual efforts to win rather than relying on a system and team as a whole. The over-reliance on aging 36-year-old Ronaldo for goals has become a constant theme for Man United.
Yes, that's true, the dependence on the former Madrid's Number 7 has increased massively. The same thing happened to Juventus the last 2 seasons. His former teammates like Chellini and Buffon openly criticized him.
Buffon even slammed the former Juventus striker for having a negative impact on the team. He publicly said,
"When I returned, I worked with Ronaldo for two years and we did well together, but I think Juventus lost that DNA of being a team." He also added, "We reached the Champions League final in 2017 because we were a side full of experience, but above all we were a single unit and there was this competition for places within the group that was very strong. We lost that with Ronaldo."
Problems besides Ronaldo at United
So, Ronaldo surely creates a lot of snags in the team, but the mess Manchester United is currently having right now is more than that.
Let's check out some reasons or critical mistakes United made besides signing Cristiano Ron.
When does it all go down?
But it all began to go downhill following a Champions League clash against Young Boys, who embarrassed Ronaldo's Man United. Soon Man United went on a run of very poor form.
United lost 0-5 to arch-rival Liverpool at home. Also, they fall short in Manchester Derby. Defeats and draws became a common theme for Ole Solskjaer's Man United and he was heavily criticized for it.
1. Mistake Done in Transfers
It was clear Man United needed a proper Defensive Midfielder in the transfer window. But they went on to invest in other areas. The team currently plays 2 energetic defensive-minded midfielders Fred and Mctominay, to stop the attack, press the opposition, and cover the Center Backs.
These limits the support in the attack, often leaving Bruno Fernandes and attacking players alone to create things for Man United in the final third. The link between midfield and attack has become poor.
If Man United had gone for a strong Defensive Midfielder who can do the dirty work alone and pass the ball forward, Fred and Mctominay's partnership would no longer be needed.
2. The sacking of Ole Gunnar Solskjaer
The unexpected 4-1 hammering of Manchester United by a newly promoted team, Watford, was the final nail in a coffin for manager Ole Gunnar Solskjaer.
He left Man United with a very emotional interview, wishing the team all the best. But was it only the Manger's fault? Of course NOT!!
3. Signing of Ralf Rangnick
After the departure of Ole, Man United opted for a reputed, experienced interim manager Ralf Rangnick. He's been lucky with a series of easy fixtures on paper.
But on the pitch, it's a different matter, and Man United is simply not performing. And the new manager is still figuring out the best possible lineup and formation for the team.
All of this leads to the Question, Did Man United Made HUGE Mistake Re-Signing Ronaldo?? Or, Is Ronaldo not great as he was in his first spell at United or the team is not good enough for him?