The Portuguese forward Cristiano Ronaldo in particular was challenged by North Macedonian president, Steve Pendarovski ahead of the World Cup playoff final. After a shocking win against Italy in the World Cup Playoff, North Macedonia's president Stevo Pendarovski wrote a challenging message that Ronaldo and Portugal fans might not like. So, what exactly did the president say and what is Ronaldo's response?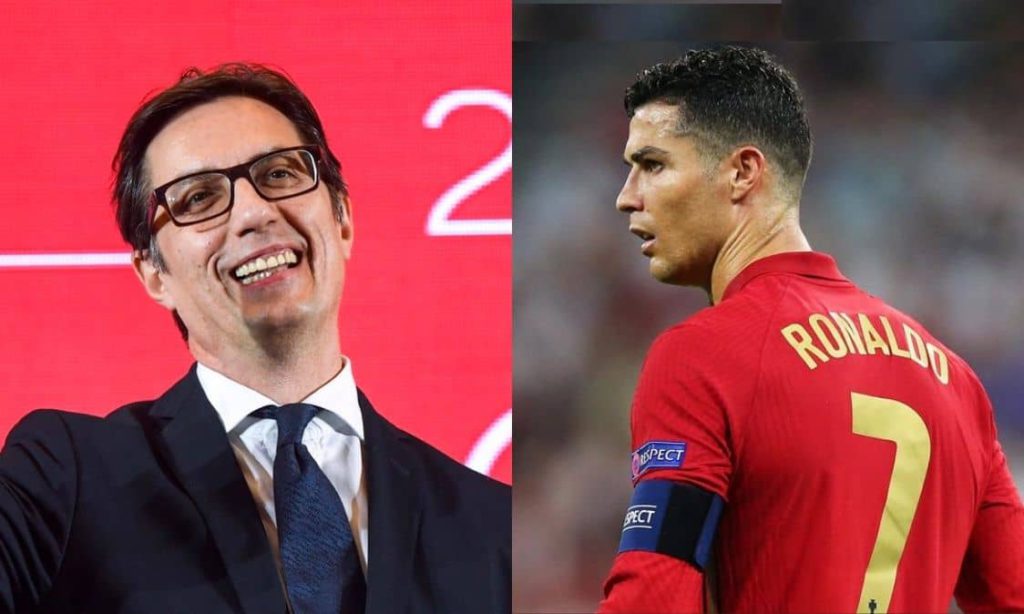 What did the Macedonian president write and why?
North Macedonia knocked out Italy from the World Cup on March 25, 2022, in the Playoff semi-final. They played outstanding defensive football to frustrate the elite players of Italy for the whole minute. And in the additional minutes, Macedonian forward Aleksandar Trajkovski scored a stunning goal from outside of the box. The match ended with 1-0, a historical win for North Macedonia.
And their president Stevo Pendarovski did utilize the chance to congratulate the national team players for their fighting spirit and victory. He tweeted a sweet message addressing the Macedonian national team as he wrote,
"Our football heroes have already written the history of Macedonian football. Congratulations on the victory, sacrifice, courage and fighting spirit in the game of our Macedonian national football team against the strong opponent."
Not just a congratulation message, he also finds an opportunity to mock the Portuguese striker on his Twitter.
Following the win, UEFA Euro 2024 congratulated the North Macedonia team from their official Twitter account. And Pendarovski retweeted the post saying Cristiano to get ready to face on March 30. Maybe he is warning that the Portuguese team is the next to get crucified after Italy by the Republic of North Macedonia.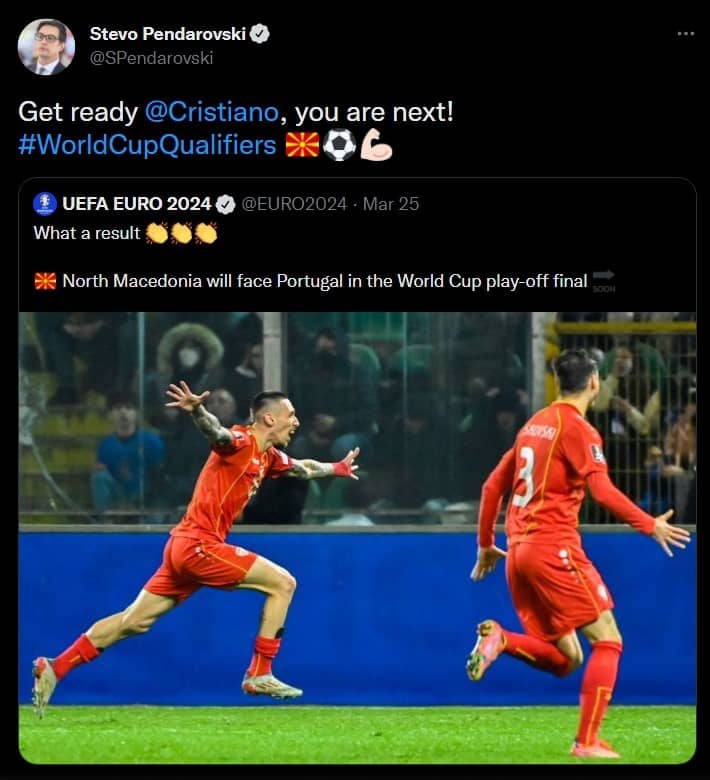 Also Read: The Spanish media called Gareth Bale a Parasite and Bale response
Has Ronaldo responded to the Macedonian president Pendarovski?
Though it has been more than 2 days Ronaldo has been challenged by Steve P, he has not given any response targetted towards the president. But as per sources, the Portuguese captain warned his teammates to not underestimate their opponent.
Despite being a favorable winner, Cristiano has told his teammates that they have won nothing and with a game left they must focus on winning the match.
Cristiano and his teammates also won against the Turkey rival by a 3-1 score in the World Cup playoff semifinal. Otavio da Silva Monteiro, Diego Jota and Mattheus Nunes scored for Portugal while Burak Yilmaz put his name on the scoresheet for Turkey.
The match between North Macedonia and Portugal will be held on March 30, 2022, in Estadio do Dragao, a stadium in Porto, Portugal.
Read more exciting news at Football Devils.