It's okay to love Football, but it is not okay to stay irrelevant about the UEFA corruption scandals that have been going since the past and are still going. Yes. UEFA, the biggest football organization, and FIFA have been involved in various frauds and misconduct.
Recently, controversy dominated the UEFA Champions League Round of 16 draws during the picking of the United's ball. Later, UEFA declared the draw null and void and did the draw again. Several mainstream media covered the news, and UEFA got serious hate comments about corruption on social media.  
So, in November 2021, Swiss prosecutors charged the former UEFA president Michael Platini and former FIFA boss Sepp Blatter for the fraud. According to the Office of the Attorney General of Switzerland, they arranged a transfer of two million Swiss francs ($2.19m), which was unlawful. Both of them will be facing trial at a court in Bellinzona.
These two are just the teensy examples that happened within a month. Have you ever wondered WHAT IS GOING ON BEHIND THE CURTAIN of the game WE LOVE the most?
We'll take you through all the major corruption cases in UEFA to validate if UEFA is the most corrupted football organization. Let's Go.
1. An Open challenge: UEFA VS ESL
On April 18, 2021, European Super League, aka The Super League, was formed that shooked the football world by storm. Football giants like Real Madrid, Barcelona, Manchester City, Liverpool and 8 other teams united against UEFA. Almost all the top teams from Spain, England and Italy joined the league.
If it had happened, it would have benefitted the super teams, but the other small teams could not have gotten into the limelight as they are getting now. It has both Good and Bad aspects. The good thing is we and fans could have seen the matches between elite teams week in and week out. But it would have caused serious damage to the other side of Football. Good for Football, it did not happen.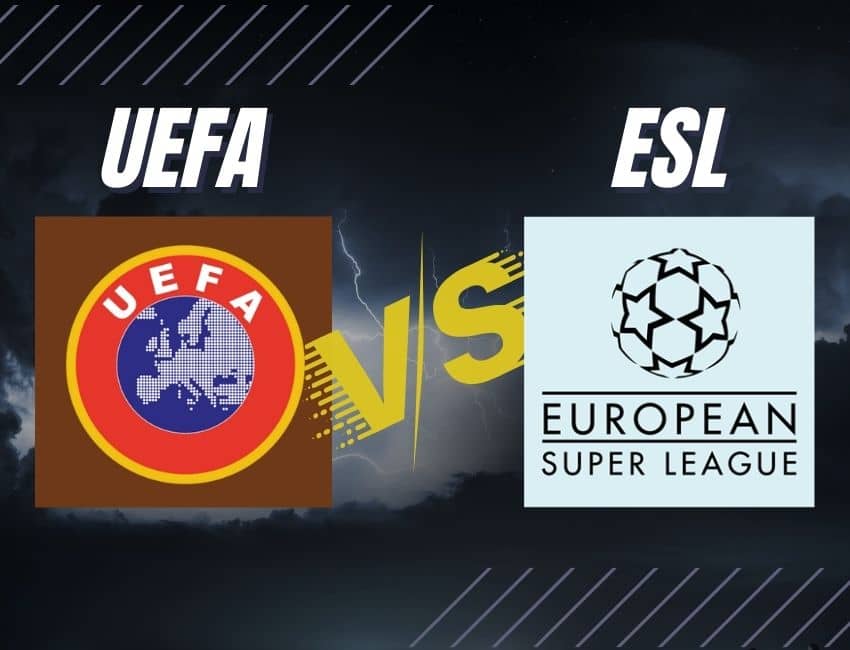 But the main question here is Why even the league was formed. And why the president of the club that has won the most UEFA Champions League was the one to lead against UEFA. 
UEFA: The main Culprit
UEFA has been more of a monarchy organization that monopolizes rather than uniting the world of Football. It has been acting as a central body without distributing its clubs' rights.
And it has been forcefully imposing the rules without even a talk with the clubs. Adding useless competitions like UEFA Europa Conference League at the club level and UEFA Nations League at the national level is funny. These competitions do not make sense after having other major competitions much better than these.
Read how Spanish youngster Pedri looked exhausted during the Tokyo Olympics 2021 due to the tight schedule of matches.
The UEFA brutally ignores players' health and rest times. It seems the UEFA only wants to fill their pocket. And as history proves, there has always been a rebellion against the brutal monarchies. And ESL looks no less against the dominance of the UEFA.
There must be a serious reason that we as fans are unaware about. And it was just a start that shooked UEFA and nearly exposed them. And we can expect more of these competitions shortly if UEFA continues treating football teams like that.
2. Poor Management during Corona
The emergence of Corona affected every sector of the world, from the economy to agriculture, and it was no less for the football world too. Covid-19 emptied the seat of every football stadium in the world. No fans mean no income generation from fans tickets. After halting the matches for some time, the rescheduling of the fixtures was chaos.
But how did UEFA manage to award these clubs despite the financial crisis all the clubs were facing from them. They must be at least responsible for them as much control they want to take of the world football.
Indeed, UEFA couldn't handle the crisis properly, and big clubs were the most affected by it. The pandemic has made Football's structural problem worse than ever. And no doubt, it is the reason for the emergence of leagues like the European Super League.
3. UEFA and FIFA bosses:- Partners in Crime
It was 2015, and it has not been even a year of the FIFA World Cup 2014 finished. Football fans were celebrating, but there was much more thing going behind our eyes.
Out of nowhere, the Swiss prosecutors opened a case against then FIFA president Sepp Blatter and UEFA boss Platini, accusing them of transferring 2 million Swiss francs ( £1.6m). Blatter transferred the money to Le Roi Platini.
Platini defended by describing it as "legitimate consultancy work." It might have been valid if it was regular, but the transfer of money showed an unusual pattern as he got money just 3 months before the re-election of Blatter as FIFA boss in 2011. The prime example of corruption in Football.
They both denied the accusation of fraud and forgery of a document. Union of European Football Association's Platini's lawyer even said that it was "a lot of fuss made over nothing."
It did not look as they described, and the investigation was not for nothing. As a consequence, FIFA banned both officials from football for 8 years.
This is just a tiny piece of evidence that corruption exists in both UEFA and FIFA. Who knows how much UEFA corruption has been going inside for ages.
4. Show-off fight against Racism
"I will kill them. I will not accept racism at all. It's unacceptable. If someone throws a banana at me in the street, I will go to jail, because I will kill them."
These are the exact word of the famous Italian player Mario Balotelli. Yes, having sacrificed so much for Football, he is one of the most racially abused players. The other frequently racially abused players are Drogba, Son Heung Min, Lukaku, Alves, and many more and they are constantly fighting against it.
In Euro 2020, three English players Jadon Sancho, Rashford, and Bukayo Saka were racially targeted after missing a penalty. And UEFA even arrested five people for doing so. This is just an example, where people throw their hate, they punish some people. Most of the time, officials do not even try to find the culprits. Let go of punishing the culprits.
Can UEFA really stop racism?
Is it the only thing football governing bodies can do to prevent racism? Can UEFA do more to prevent these things from happening in the future? Are they doing enough? Hell NO. I can prove to you why they are not doing enough?
Suppose you are a video creator and copy even a small piece of content and paste it into your channel. There is a 90% chance that your video will get copyrighted.
But it is not the same case with racism. Big taglines with "NO TO RACISM" and taking a knee before the match is not gonna solve the problem. Yes, it is better than not doing anything, but UEFA has been seriously unable to control these types of racial and online abuses. And yes, UEFA can do better.
All these are just some examples of UEFA corruption and manipulation in Football. There is a serious problem in the biggest Football governing bodies that we can barely see. In fact, we do not even try to know about it.
If you want to know more spicy news and facts about Football. Click here at Football Devils.