In a friendly match between Barcelona and Manchester City, Erling Haaland gave one of the most disgusting moments, that Barcelona fans won't like to remember. A few minutes after they gave warm welcome to the Swedish striker, Haaland did a funnier DIVE that earned City a penalty.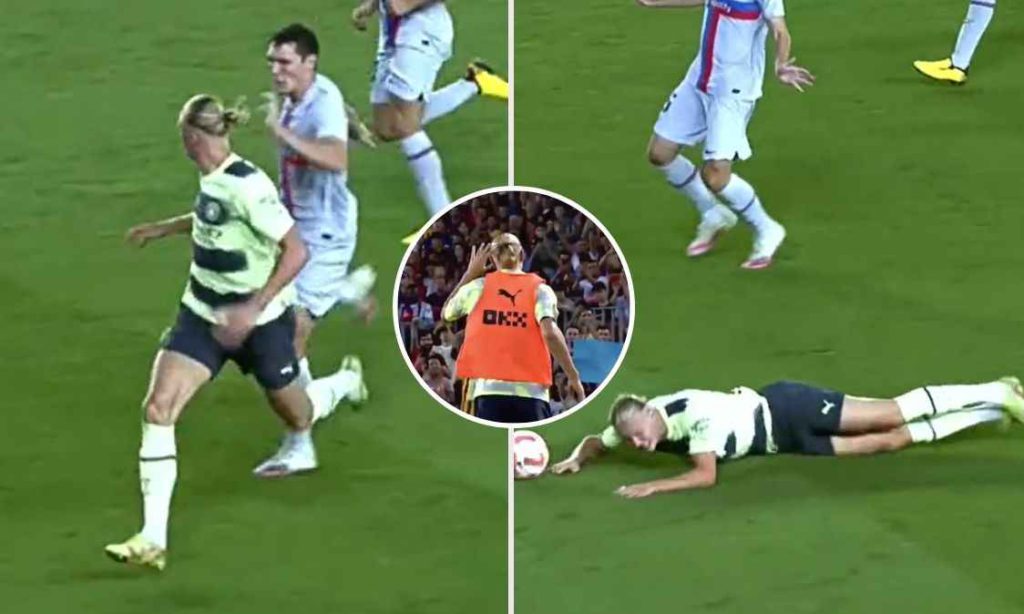 Barcelona fans welcomed Haaland at Camp Nou
Barcelona and Manchester came face to face in a friendly match at Camp Nou on August 25. The match was held as a charity for Juan Carlos Unzue, a former goalkeeper and also an assistant manager. Juan was diagnosed with incurable neurodegenerative disease. And the match was conducted to raise funds for Amyotrophic Lateral Sclerosis (ALS).
A huge fan went to watch the match and support the cause as almost 90,000 fans were recorded at Camp Nou.
Despite being a friendly match, the match was a thriller as both the teams scored 2-2 goals until the 70th minute. Erling Haaland came as a substitute in the 72-minute replacing Julian Alvarez. The young forward was heavily welcomed by the Barca fans who were seen clapping hands welcoming the young talent.
Haaland's Ridiculous Dive against Barcelona
Barcelona's Memphis Depay scored the third goal for Barcelona in the 79th minute as Barca led the match by 3-2. Both teams were pressing each other until the 90th minute and additional 9 minutes were added to the clock.
That was when Erling Haaland gave a ridiculous dive. The striker was heading towards the ball and went unexpectedly down. The camera even showed it was like a clear foul from Andreas Christensen.
However, a close look from different angle showed different thing as Christensen was not even close to tackle Erling who went down.
And the referee awarded the penalty to Man City as Riyad Mahred scored the penalty to level the score. The match ended with a final scoreline of 3-3.
Following the incident, Haaland was trolled Hilariously by the fans.
Read more exciting news at Football Devils.