Despite having a controversial season, PSG forward Lionel Messi has still been ranked as the third-best player in Europe this season. So, where are Benzema Ronaldo, and Mbappe ranked? And what about Ronaldo?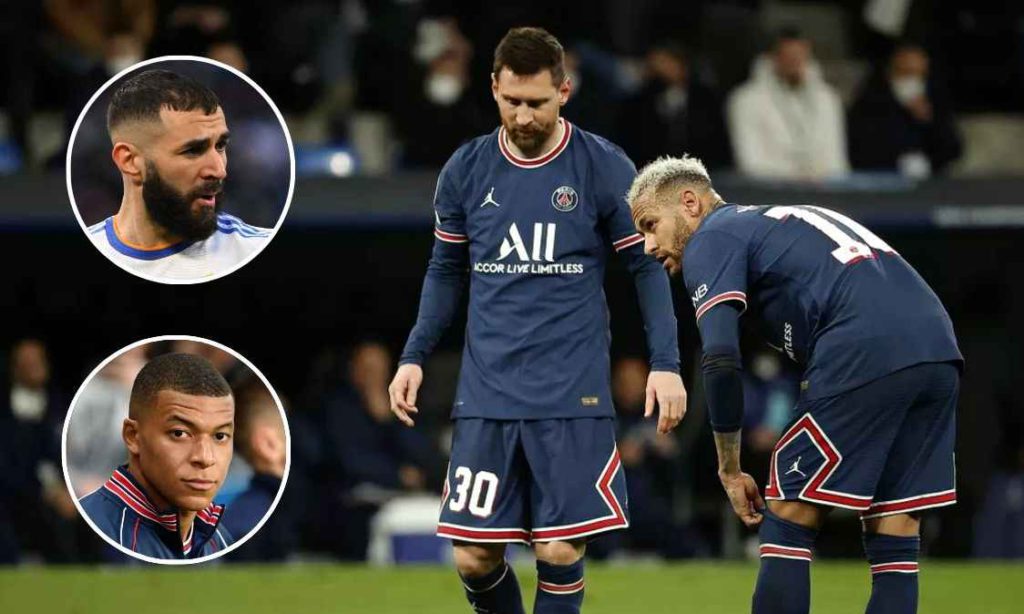 Ranking of Lionel Messi
In a rating provided by one of the trusted sources, Lionel was ranked as the third-best performing player in the whole of Europe. The ratings were based on the goals involved per match played by an individual. The stats website, WhoScored rated Messi with 7.71 which is just 0.23 less than the top-rated player.
Everybody knows, that the Argentine forward Lionel Messi is not having a great year. He has just scored 4 goals and provided 13 assists in a total of 22 matches for the French club Paris Saint Germain. But the PSG's winger scored an important goal in a match against Lens that earned them the points enough to seal the Ligue 1 trophy.
The above stat is a massive drop compared to his goals and assists in the 2020/21 season. Leo scored 38 goals in all competitions along with 14 assists.
Read also: Football World reacts to Messi getting booed by PSG fans
Where are Benzema, Mbappe and Ronaldo ranked?
Real Madrid's forward Karim Benzema is one of the top contenders for the Ballon D'or this season. He produced a masterclass against Chelsea and PSG scoring a hattrick in each game. And he also scored a brace against Man City in the semi-final of the UCL.
Unfortunately, Benzema has even ranked below Messi in the statistics. He stands in the fourth position along with Mohamed Salah with a rating of 7.68. So, Liverpool's winger Salah is the top-rated EPL player as per the reports.
Similarly, Messi's PSG teammate Kylian Mbappe is the second top-rated player. WhoScored rated him with 7.91 points and stands just before Messi. And the list of the best performing player is Robert Lewandowski, who has scored 33 goals and 2 assists in just 31 appearances.
So, where is Ronaldo ranked?
Bad news to Cristiano's fans, he is not even in the top 10 of the best performing players in Europe. United's forward Cristiano Ronaldo has already scored 22 goals and provided 3 assists in 36 appearances.
Top 10 Rankings of Players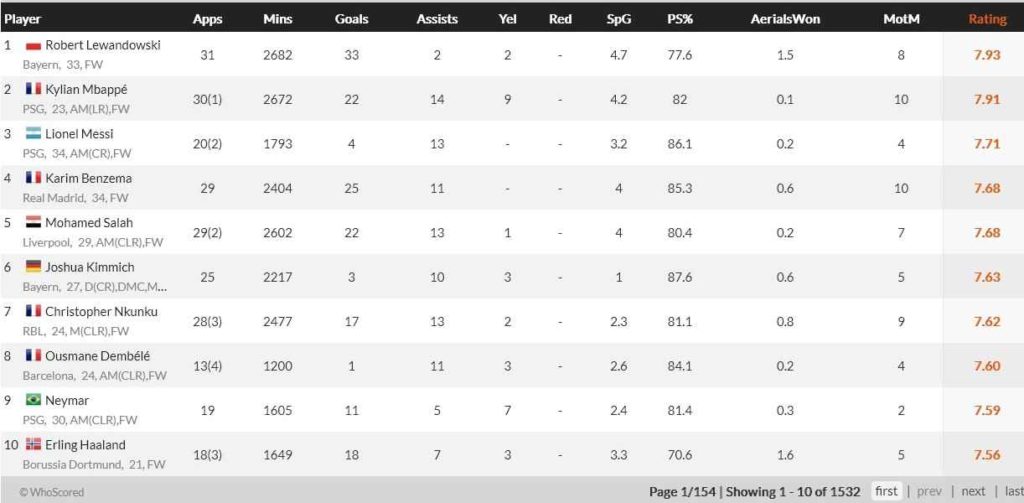 Read more exciting news at Football Devils